Ad blocker interference detected!
Wikia is a free-to-use site that makes money from advertising. We have a modified experience for viewers using ad blockers

Wikia is not accessible if you've made further modifications. Remove the custom ad blocker rule(s) and the page will load as expected.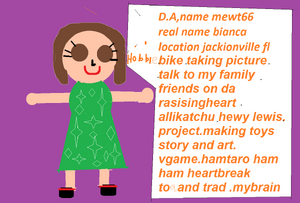 Welcome to the Wiki
Edit
AM MEWT66 AND AM JUST DOING THIS 4 FUN BUT U CAN HELP ME MAKE IT BETTER TRY ADDING THESE
.AND HERE A LIST .1MAGIC
2MUSIE
3BOOKS ABOUT GHOST AND MONSTERS
4YOU CAN ADD PICTURE OF YOUR FAVEORITE TOYS EVEN YOUR PETS
5TEEN TITAN THE SERIES PICTURES
6MYTHOLOGY
7 DINOSAURS
8HISTROY OF TITANIC
9 IF YOU EVER SEEN A WEIRD ANIMAL OR MONSTER THEN PUT A PICTURE OF IT RIGHT HERE
OH AND HAVE FUN .PS THERE ARE RULES
RULE 1 NO SWEARING HERE
2 NO NAKED PICTURE
3 DO TV SHOWS
4YOU CAN ADD VORE PICTURES HERE JUST PICTURES
you even add your favorite hero

.
Latest activity
Edit